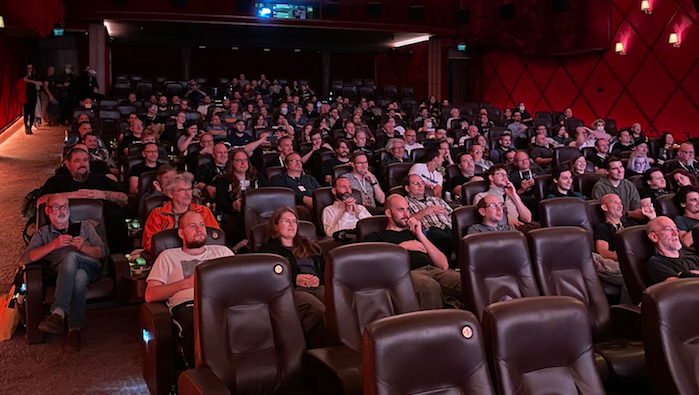 Cologne: the benchmark is high
Maybe we have already experienced the best screening of Megalomaniac when we went to Cologne this week.
After spending the day with our fabulous distributor Andre Groenhoff (Indeed Film) to discuss what he has planned for the film after the festival period (and trust us, it's going to be awesome), that would have been enough to get us excited.
But that was without counting on the welcome of the Fantasy Fest team, starting with Matthias, and then the generosity of Rainer, one of the founding members of the festival.
The visit of the Cinema Residenz in Cologne literally left us speechless. Without a doubt the most beautiful screening room we've ever seen in our lives: wide leather seats where your armrests are all to yourself, with a little footstool to stretch out your legs (or a little button to stretch out the whole seat in the back rows, WOW), a brand new state-of-the-art screen with a picture quality never seen before and a sound to satisfy the most control freak of 5.1. It wasn't luxury, it was literally science fiction!
Best screening ever!
And then there was the audience who filled us with incredible goodwill and love after the film.
It was amazing to talk to you guys, your feedback, your comments, your reactions are our greatest gift.
Thank you Cologne, we will never forget that night <3