Director : Karim Ouelhaj
Cast : Eline Schumacher, Benjamin Ramon, Hélène Moor, Wim Willaert, Pierre Nisse, Raphaelle Bruneau, Quentin Lasbazeilles, Olivier Picard, Catherine Jandrain, Julie Carroll…
Music : Gary Moonboots & Simon Fransquet
D.O.P : François Schmitt
Sound : Franco Piscopo & Julien Mizac
A bold and striking provocation, Megalomaniac examines the tragic events that can turn man into monster and victim into executioner. Inspired by Belgium's real-life Butcher of Mons, this violent, visual feast from Golden Méliès-winning writer/director Karim Ouelhaj is a powerful slice of cinema featuring unforgettable performances from its dedicated cast and establishing its boundary-pushing filmmaker as a truly global talent.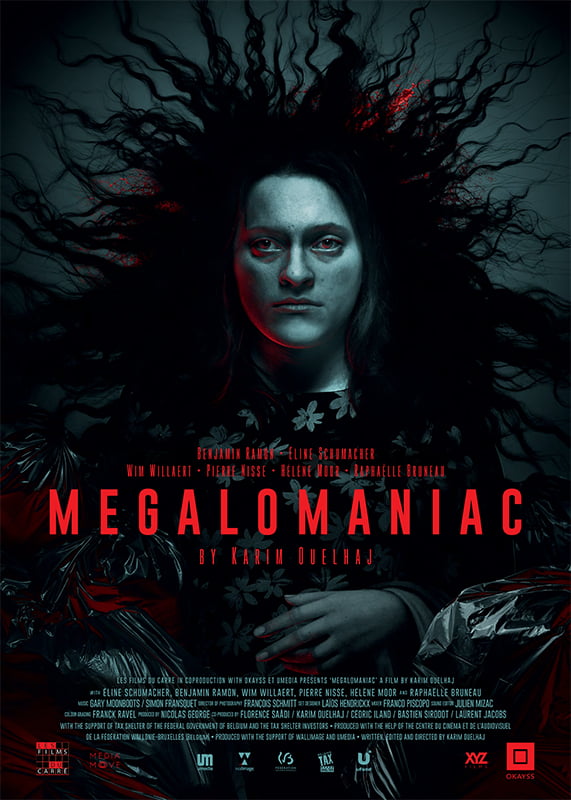 Martha and Félix are children of the Butcher of Mons, a notorious Belgian serial killer from the 1990s. While Martha lives an unstable life, riddled with insecurities, her brother, crushed by the family legacy, takes over their father's killings.
Harassed and violently assaulted at work, Martha falls into madness and goes through the looking glass into the strange and terrifying world inhabited by her brother.
Martha et Félix sont les enfants du Dépeceur de Mons, célèbre tueur en série belge des années 90. Alors que Martha, instable et complexée, est rongée par l'insécurité, son frère, écrasé par l'héritage familial, reprend les tueries de leur père.
Harcelée et violemment agressée à son travail, Martha sombre dans la folie et passe de l'autre côté du miroir, dans le monde étrange et terrifiant dans lequel vit son frère.
FANTASIA FILM FESTIVAL (Canada) – International competition Cheval Noir – 2022