Director : Karim Ouelhaj
Cast : Maryse Dinsart, Cécile Brohez, Giovanni Di Mascio, Claudio Dos Santos, Céline Rallet
Music : OLH, Nox, Frank Shinobi, Roland Garros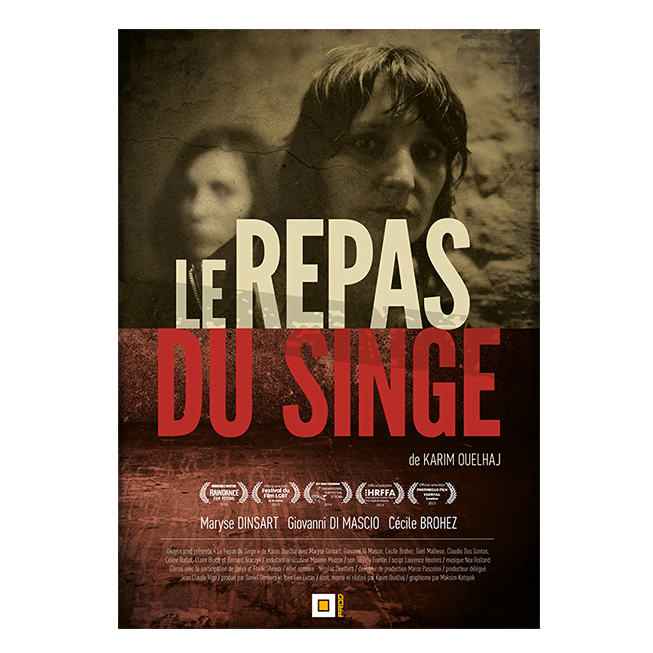 Nadia and Sophie, two young women around thirty, share a common uneasiness. One tries escaping using drugs; the other ends up in relationship that never last long.
As they cross each other's way, they will try, together, to no longer survive and start living.
Nadia et Sophie, deux jeunes femmes dans la trentaine, ont pour point commun un certain mal être. L'une tente de l'oublier par la drogue, l'autre au travers de relations qui tournent toujours court.
Quand leurs routes vont se croiser, elles vont tenter, ensemble, de vivre et non plus de se contenter de survivre.
Cinemavvenire Film Festival of Roma (Italy) – 2014 – Award : BEST FEMALE PERFORMANCE : Maryse Dinsart
Sélection officielle Portobello Film Festival (UK) – 2014
Sélection officielle Raindance Film Festival (UK) – 2013
Sélection officielle 8th International Human Rights Film Festival (Albania) – 2013
Sélection officielle Festival LGBT de Bruxelles (Belgium) – 2013
Maryse Dinsart (Nadia)

Cécile Brohez (Sophie)

Giovanni Di Mascio (Gianni)

Claudio Dos Santos

Céline Rallet (Sarah)

Gaël Malleux (Renaud)

Claire Blach (la mère de Nadia)

Bernard Graczyk (le père de Nadia)
Director / Réalisateur : Karim Ouelhaj
Scriptwriter / Scénariste : Karim Ouelhaj
1st assitant director / 1er assistant réalisateur : Max Muccin
Executive producers / Producteurs délégués : Karim Ouelhaj
Line producer / Productrice excécutive  : Max Muccin
Production assistant / Assistante de production : Vanessa Jarlot, Perrine Lejeune
Sound / Son : Jeremy Frontin
Mix : Franco Piscopo
Calibration / Étalonnage :
Benjamin Dewalque
Make up / Maquillage : Jessica Delvaux
Music / Musique : OLH, Nox, Frank Shinobi, Roland Garros
General managers / Régie : Giovanni Di Mascio
Editing supervisor / Superviseur montage :  Anne-Laure Guégan
Set photographer / Photographe de plateau : Michel Tonneau, Maud Petit
Editing / Montage : Karim Ouelhaj
Related to a MONKY DUST / Dans le contexte du REPAS DU SINGE